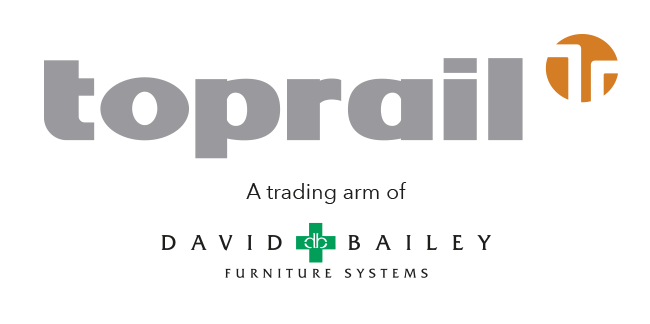 Experience Total Freedom with Toprail: The Ultimate Fitted Furniture Solution
Discover the revolutionary world of Toprail, supported by a product range that redefines quality fitted furniture. Designed to provide unparalleled flexibility and adaptability, Toprail Systems have the ability to effortlessly transform any fitted furniture layout – whenever inspiration strikes. And the best part? Minimal tools and no specialised skilled labour required..
Elevate Your Space with Toprail by David Bailey Furniture Systems Limited
Toprail isn't just a product; it's a lifestyle upgrade. Crafted by the visionary minds at David Bailey Furniture Systems Limited, a distinguished British company with more than 40 years of expertise, Toprail is the route to a new era of furniture innovation.
A Versatile Solution Across Diverse Environments
From healthcare institutions to leading universities, dynamic industry settings to busy schools, thriving commercial spaces to the comfort of your own home—Toprail Systems are a game-changer.
The Ultimate Toprail Range: Your Furniture, Your Way
Rail & Uprights: These are the foundations that provide the backbone for creative configurations in any type or size of space.
Shelving: Elevate your storage possibilities with customisable shelving that adapts to your evolving needs.
Brackets: Secure and stylish, brackets seamlessly integrate with the rail to offer sturdy support for your shelving.
Cupboards & Drawers: From sleek cupboards to functional drawers, Toprail offers an array of storage solutions that effortlessly combine practicality and aesthetics.
Worktops: Transform your space into a functional work hub with worktops that seamlessly integrate into your layout.
Storage Units: Create harmony with purpose-built storage units that cater to your unique organisational requirements.
Panels: Express your style with panels that not only partition spaces but also elevate the visual appeal of your furniture arrangement.
Presentation: Impress and engage with specialised presentation components that add a touch of professionalism to any environment.
Office Furniture: Revolutionise your workspace with office furniture that blends ergonomic comfort with contemporary design.
Unleash Your Creativity
Toprail invites you to break free from the confines of traditional furniture. Embrace your inner designer and effortlessly configure, reconfigure, and transform any space, to your own particular needs.
Why Choose Toprail?
Toprail isn't just a product—it's an experience. With unmatched flexibility, easy reconfiguration, and a range that spans from rail to office furniture, it's the ultimate solution for those who refuse to be confined by convention.
Experience Toprail, and redefine what's possible in your space. Contact us today to explore the future of furniture innovation. Your imagination is the limit, and Toprail is your canvas.