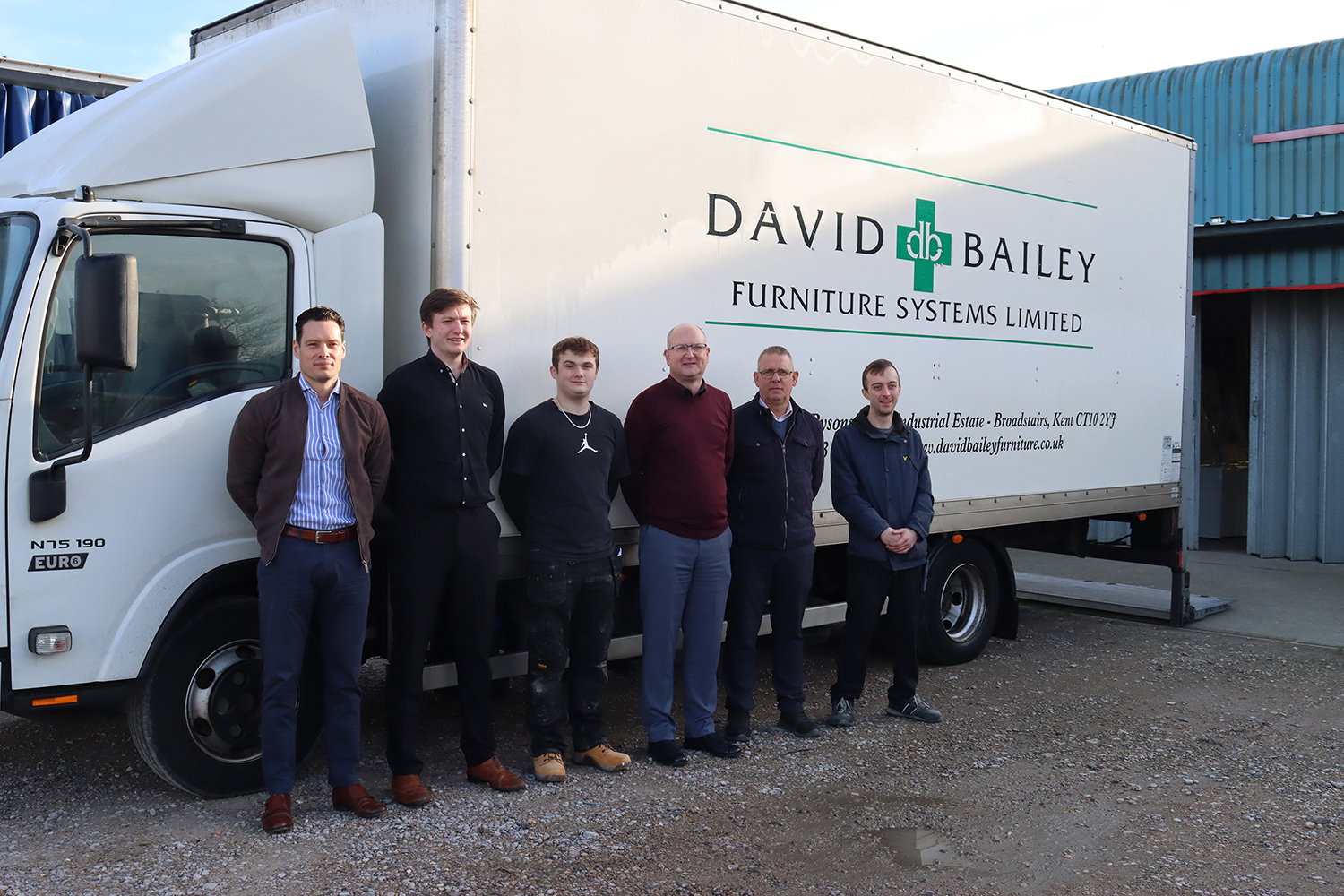 David Bailey Furniture reinforces its commitment to young apprentices
Broadstairs, Kent based David Bailey Furniture, Britain's fastest growing manufacturer of specialist fitted furniture products for the health and education sectors, has reinforced its commitment to the training of young people with offers of two new apprenticeship vacancies in key woodworking skills and business administration. These will join another two who have already started work.
The company has previously successfully completed 10 apprenticeship schemes working closely with EKC Group, a family of six community-based colleges across East Kent – their mission being to play a leading role in developing the economic and social prosperity of the communities they serve.
Together they are delivering practical on-the-job training and genuine qualifications that meet the requirements of the Construction Skills Certification Scheme (CSCS) 'Skilled Worker' standard, which is widely accepted in the sector as a 'licence to operate' in a skilled construction trade.
New apprentices benefit from theory learning at college, working in line with a recognised qualification course structure, but the programmes must also involve the practical side. "Based at our premises, business administration, for example, will involve working within our office environment, dealing with business and administrative duties including estimating, customer service, reception work, project co-ordination, logistics and transport," said Tony Huggins, managing director of David Bailey Furniture. "On completion of the apprenticeship schemes, apprentices are most often offered a full-time position in the business and progress within, or they may move on to climb the career ladder elsewhere in the industry. Apprenticeships give the flexibility to train on the job, build your experience and mould your own career path".
To enrol as an apprentice, applicants should have achieved a GCSE Grade 4/C or Level 2 Functional Skills in Maths and English. Maths and English are vital parts of the apprenticeship course. EKC Group can support individuals if they do not already hold these levels of Maths and English and deliver these skills in a variety of ways; including classroom-based and online study.
David Bailey Furniture, working with EKC Group, offers two distinctive apprenticeships. They are Furniture Manufacturer Level 2 and Business Administration Level 3.
"Our apprenticeships are open to both young men and women," said Tony Huggins. "We don't get as many women as we would like applying for these types of roles, however, within the last couple of years we have seen a change. More women are applying and successfully securing apprenticeships in construction/engineering/building services and mechanics and this is very encouraging."
Most apprenticeships in partnership with EKC Group can be completed in less than three years. Business Administration Level 3 usually takes around 18 months and Furniture Manufacturer Level 2, 27 months.